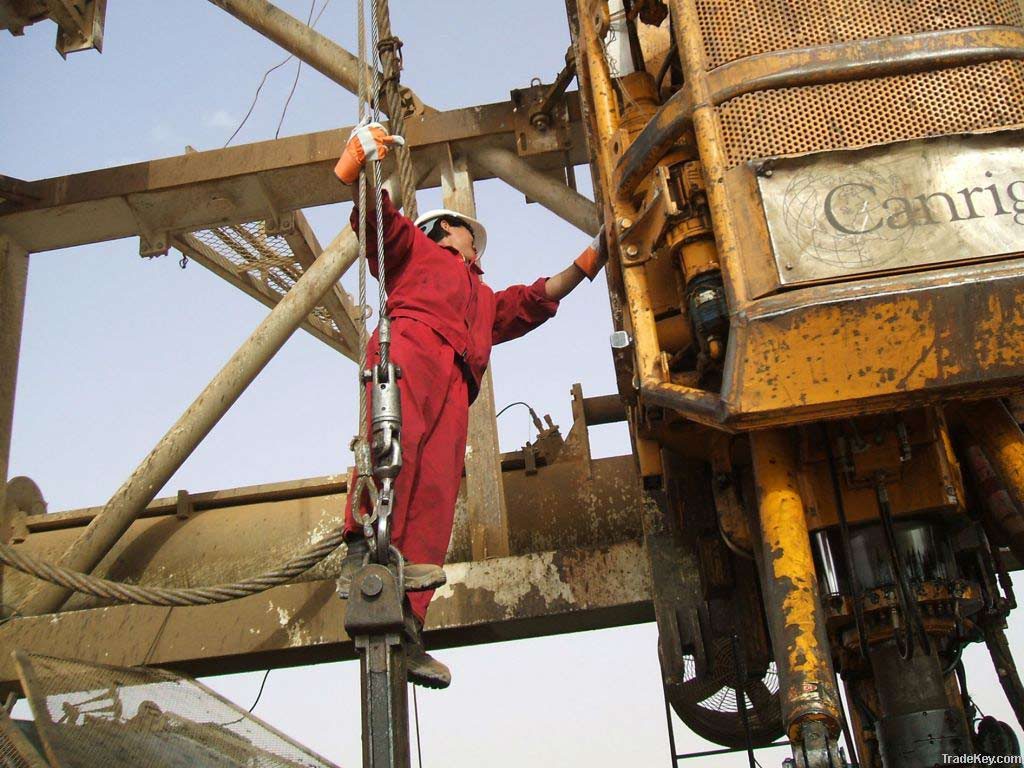 Canrig Top Drive
Canrig top drive systems are the most popular for drilling gas and oil wells. They combine the functions of the rotor and swivel, they are excellent at drilling with fast trouble-free wiring of horizontal, directional, vertical wells. The systems are fully modernized, both domestic and imported drilling rigs can be equipped with TDS.
About Canrig company
Manufacturer of top drive Canrig is the American corporation Canrig Drilling Technology. Its products are used throughout the world, including Russian companies BK-Eurasia, Rosneft, LUKOIL, Chernomorneftegaz, Gazprom and others. In addition to top drive systems, the company produces intelligent systems, automated driller keys, drilling winches, automatic receiving bridges and many other things necessary for the needs of the oil and gas industry.
Advantages of Canrig
The huge experience of the company, tracking the latest innovations in the field of development of equipment for the oil and gas industry allows the corporation to produce safe, reliable, high-precision equipment.
The Corporation pays maximum attention to the modernization of once-released equipment. This allows to significantly improve the quality of work already operating drilling stations and rigs. After modernization, replacement of modules it increases their efficiency and competitiveness in comparison with new models of equipment.
Canrig takes care of the needs of its customers. It created a coordination center for efficient service, consumer support. Specialists of the center receive, process information, provide assistance in repairing, servicing, assisting in training personnel for work on equipment.
Features of top drive systems from Canrig
Technical characteristics of the different Canring top drive systmes can be found in the following table:
| | | | | |
| --- | --- | --- | --- | --- |
| Drive model | Weight, t | Capacity, t | Power kWt | Max rpm |
| 1035АС | 12,2 | 350 | 750 | 265 |
| 1250АС | 13,2 | 500 | 860 | 256 |
| 1275АС | 13,6 | 750 | 860 | 256 |
| 4017АС | 6,8 | 175 | 300 | 225 |
| 6027АС | 8,2 | 275 | 450 | 2-5 |
| 8050АС | 13,2 | 500 | 590 | 228 |
The advantages of the top drives from Canrig Corporation are as follows:
Hydraulic amplifier is to Control the correct direction, ensure the continuity of the rotation of the equipment;
The absence of a hook, which is provided by the design, substantially reduces the height, the weight of the rig;
Unique floating shaft system will prevent the failure of a threaded connection, provide softness stroke;
Full control of well with automatic and manual valves;
Easier work with pipes by special pipe manipulator;
The efficiency of the top drive is provided by the wire rope system.
Also the advantage is the fact that the buyer can choose the best options for the rig. AC or DC motor top drive with a local or remote cooling system can be selected.